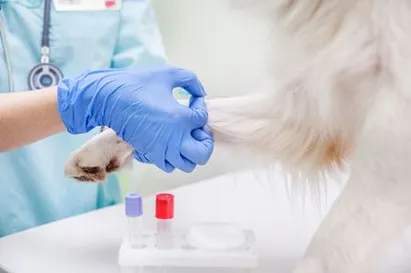 Diagnostic bloodwork allows our vets to know more about your pet's health by collecting their blood sample and analyzing it.
At Costa Mesa Animal Hospital, we offer diagnostic bloodwork services for pets to understand their health status and identify existing illnesses. Our bloodwork testing can detect several illnesses such as diabetes, kidney and liver problems. We are located in Costa Mesa and provide our services in neighboring areas such as Newport Beach and Fountain Valley.
When Do Veterinarians Recommend Diagnostic Bloodwork?
Our veterinarians may recommend diagnostic bloodwork in the following situations:
When a pet has symptoms of an illness
Before starting a new medication
Before undergoing surgery
The Importance of Diagnostic Bloodwork
Diagnostic bloodwork may be done together with other types of body examination to guide our veterinarians on what kind of treatment to give your pet when they are suffering from certain conditions. Even when your pet doesn't show any symptoms of an illness, it's good to take them for this test, as it can identify underlying conditions that don't show symptoms in their initial stages. Senior pets and those with certain illnesses should be taken every six months.
Bloodwork gives detailed information about the following:
Glucose
Glucose is also known as blood sugar. If its levels are very high, it might be a sign your pet has diabetes mellitus.
Globulin
Globulin plays a crucial role in liver function, fighting infections and blood clotting. High levels of globulin in the blood may indicate chronic inflammation and related illnesses.
Calcium
High levels of calcium in the blood may indicate conditions like kidney disease and cancerous tumors.
Cholesterol
Very high cholesterol levels may indicate thyroid problems or diabetes. Very low levels may indicate liver diseases.
Hemoglobin
Hemoglobin is responsible for carrying oxygen in the blood. Very high or very low hemoglobin levels may indicate an illness that requires our vets to do more testing to identify it.
Platelets
Platelets help in blood clotting. Reduced levels put a pet at risk of hemorrhage. The lack of platelets can cause excessive bleeding.
What to Expect During Veterinary Diagnostic Bloodwork
It will take a few minutes for our veterinarians to draw blood from the pet. The results depend on the kind of test being done. Some tests may take a few minutes for results, while others may take a few days.
Visit Costa Mesa Animal Hospital for Veterinary Diagnostic Bloodwork
Diagnostic bloodwork is an effective method of detecting illnesses affecting pets. At Costa Mesa Animal Hospital Costa Mesa, we have state-of-the-art equipment for diagnostic bloodwork. We provide an accurate and fast diagnosis that enables prompt treatment, particularly in emergency cases. We also serve the people Of Newport Beach and Fountain Valley. Contact us today at 949-548-3794 to book an appointment for your animal.